Can you tell I've been in a baking mood recently?
Last year at a local farmer's market a vendor was selling these brownies for $1.00 a piece. It was like a piece Heaven! I got home and hunted down a recipe to make them myself. They've been a crowd pleaser with youth groups and the girl's schools.
8 whole graham crackers, broken crosswise in half (15 squares needed)
1 1/2 sticks (3/4 cup) salted butter
4 squares unsweetened baking chocolate (I've also used milk chocolate with excellent results)
1 teaspoon vanilla extract
2 1/2 cups miniature marshmallows
1 cup semisweet chocolate chunks (I would get the smallest ones you can find)
Large microwave safe bowl
Non-stick spray (or whatever you grease with)
-Before you begin I recommend spraying everything that will come in contact with the sticky chocolate, marshmallows, etc. with non-stick spray. It makes things so much easier, and easier to clean
- Preheat oven to 350 degrees
-Line a 13 x 9-inch baking pan with aluminum foil, with ends of foil extending beyond sides of pan
- Lightly grease the foil lined pan; set aside (make sure you grease it very well, if you don't the marshmallows will stick)
-Place 15 of the graham squares on the bottom of the pan, overlapping slightly
-In a large microwave safe bowl, place the butter and unsweetened chocolate. Microwave on high for 2 minutes or until butter is melted. Stir until chocolate is completely melted (cut the butter up into small squares, break the chocolate too)
-Stir in granulated sugar (this is when the electric beater comes in handy)
-Add eggs and vanilla extract; mix well
-Stir in the flour until well blended
-Spread over the graham cracker squares in pan
-Bake for 30-32 minutes or until toothpick comes out with fudgy crumbs. Do not over bake.
-Sprinkle evenly with marshmallows and chocolate chunks (I added a little more marshmallows and a little more chocolate chips).
-Bake an additional 3-5 minutes or until marshmallows begin to melt.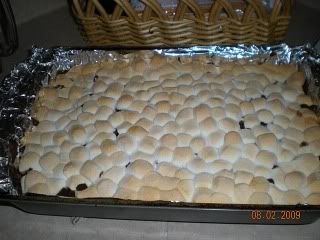 -When cooled, lift out of pan with aluminum foil handles. If desired cut into smaller squares.